The Spiritual Family The Work
Littlemore – tiny nest, huge encounters
as seen through the eyes of Sr. Bianca Feuerstein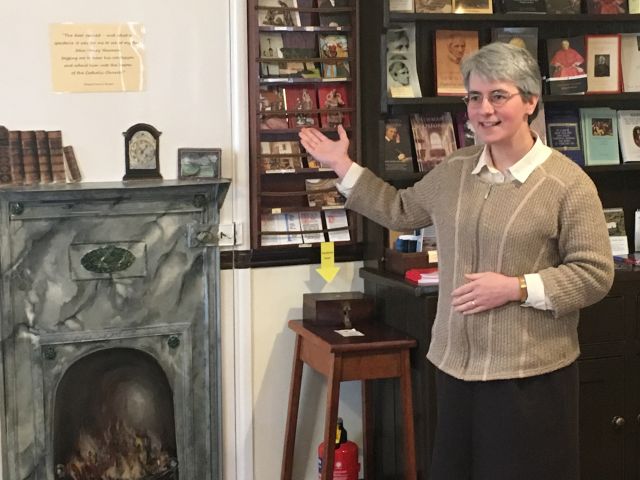 " I have come to say thank you." So said a recent visitor, a young woman from Sweden, who had found her way into the Catholic Church through the writings of Saint John Henry Newman.
When I entered the Community of "The Work" in 1991, I had no idea I should one day find myself living in Littlemore, a tiny 'nest' on the outskirts of Oxford. The name of John Henry Newman meant little to me in those days. Today, after 16 years of being involved with the place where the famous author, Anglican cleric and university preacher came over into the Catholic Faith, I feel close to this holy man.
Here I have met many people from all over the world. My training in the tourism business, the foreign languages I had learned, and all aspects of my experience in the secretarial field served me well in this situation.
I am often amazed at how Newman – a 19th century priest and scholar – can inspire people from all over the world. His secret? His love for Jesus and the Church moved him to stand in others' shoes. And that is precisely what we here, as a spiritual family, set out to do: through Christ and with Christ, we set out to be there for people, through prayer and hospitality.

Time and again, the colourful and widespread range of visitors brings home the enormous benefits of the silence and atmosphere of this place. No matter whether these visitors come knocking at the door to study, to pray or simply out of curiosity. For others it is a dream come true when they find themselves spending a few moments in the place where John Henry Newman lived for four years with his friends; when they are able to pray in the chapel where he used to pray. Being witness to such occasions are the most treasured moments of the whole of my activity in this place.