Pope Benedict Days in Rome
15 young men from Germany, Austria, Slovenia, Italy, Great Britain and Brazil accepted our invitation to "Pope Benedict Days" in Rome during Holy Week. Deepening of faith, solemn liturgies, visits to the holy places and enriching community experiences characterized these days.
Prayer, Faith and Community
Point of reference was the figure of Benedict XVI. Dealing with his life journey we had the joy to hear a beautiful testimony of Archbishop Georg Gänswein, the personal secretary of the late Pope. Meditating on the books of Joseph Ratzinger on Jesus of Nazareth, we tried to better understand central mysteries of our faith in Jesus Christ: the Last Supper and the institution of the Eucharist, the Lord's suffering and death, his resurrection and his victory over death. We were able to pray at the tomb of Benedict XVI in St Peter's Basilica; this was a moving moment for all of us.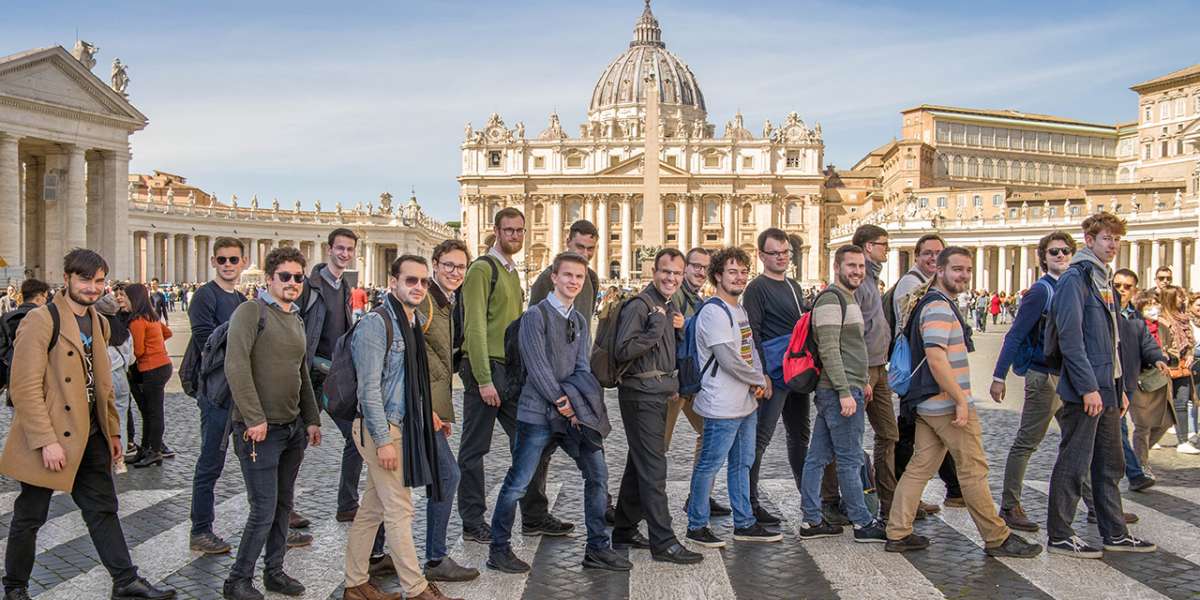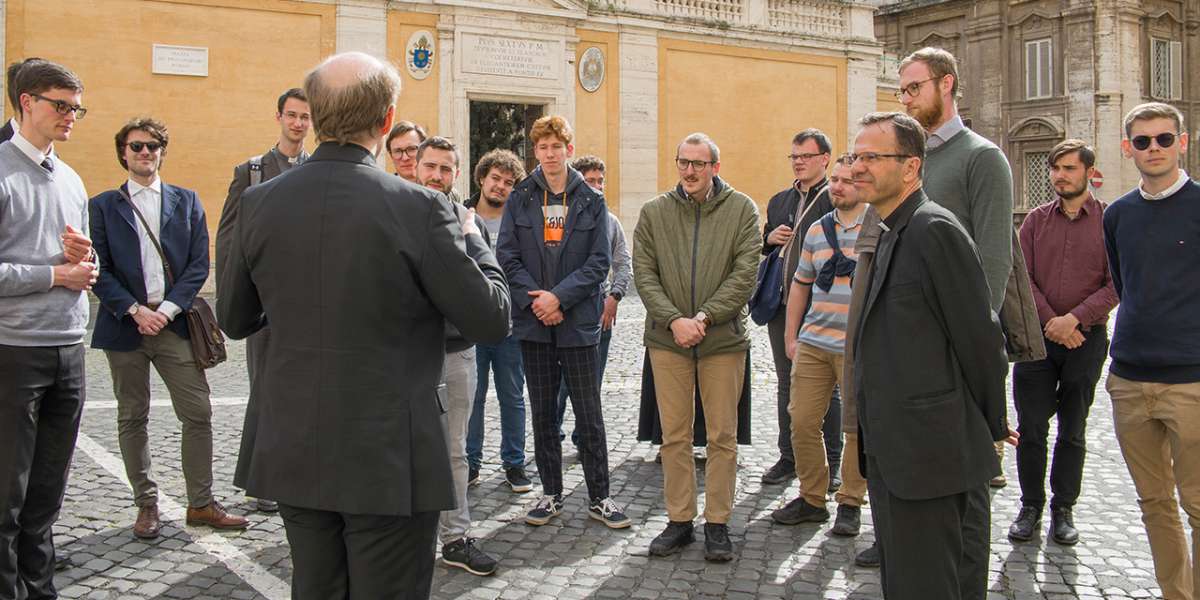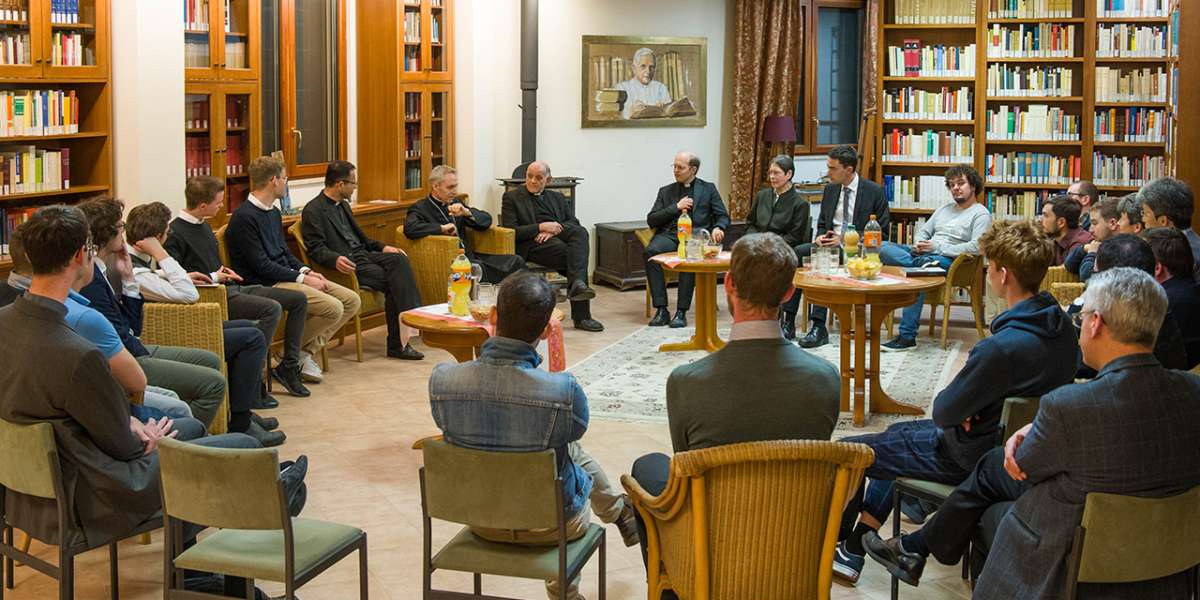 A highlight was the celebration of the Palm Sunday liturgy and the Chrism Mass with Pope Francis. Other impressive moments were the Eucharistic celebrations in the catacombs of St Sebastian and in the Palace of Propaganda Fide at the Newman Altar; a commemoration of the martyrs of the 20th century in the Church of St Bartholomew; the prayer of the rosary on our knees on the Holy Stairs; and the Stations of the Cross in the Basilica of Santa Croce. The participants were invited to participate in the Liturgy of the Hours and the Eucharistic adoration with our local community.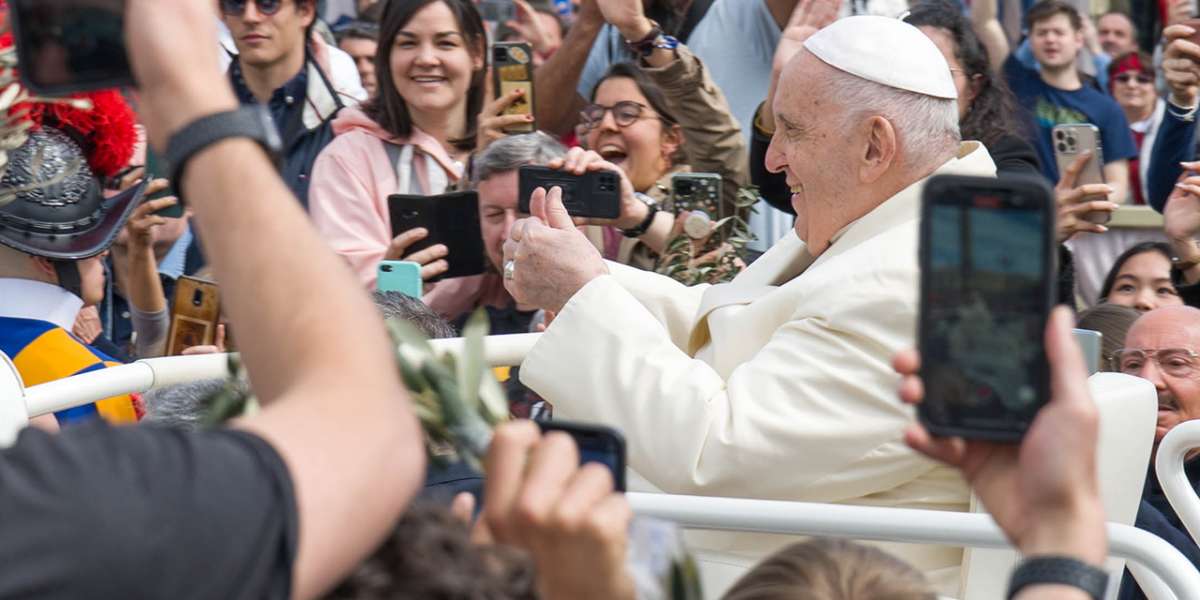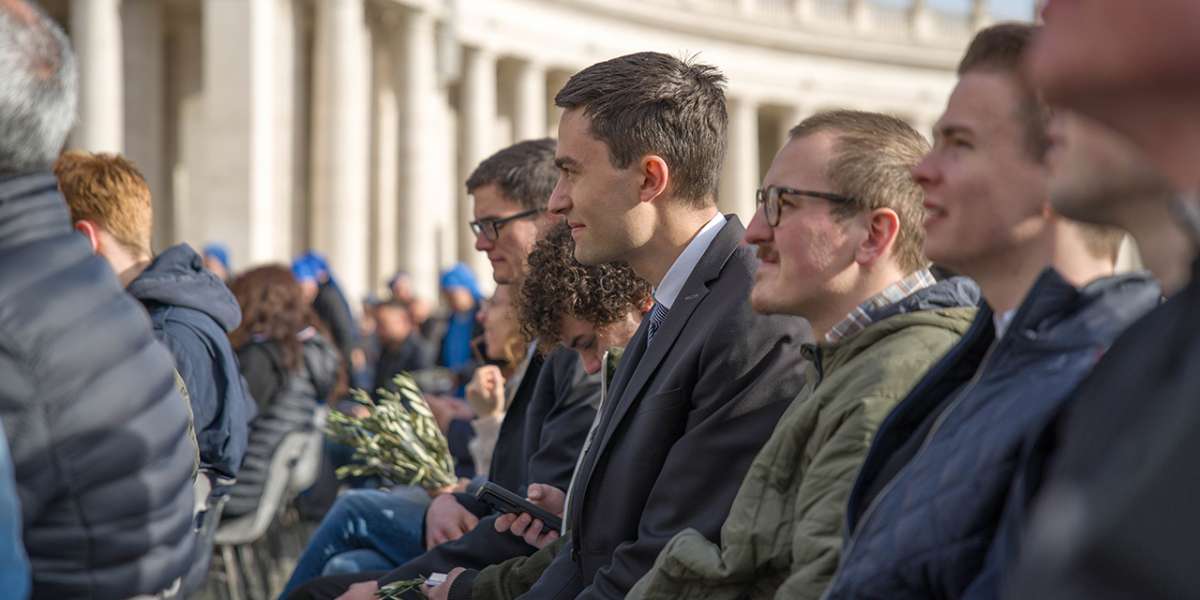 We admired the marvelous basilicas of St Peter and St Paul and visited different sites linked with the memory of St John Henry Newman. Part of the programme was a tour in the catacombs of St Sebastian as well as a film about Mother Julia. We had joy to do together some practical works in the house and the garden. A pizza evening let us feel something of the Italian flair. We concluded with a get together on the last evening during which we shared our personal highlights of the trip.
We felt how beautiful it is to believe in Jesus Christ and to give ourselves to the service of the Church. We experienced that it is important to talk about Jesus – but even more important to talk with him, to listen to him, to grow into friendship with him and with others. This friendship, lived with joy and serenity, was always at the heart of Benedict XVI. In his last general audience as Pope on February 27, 2013 he exclaimed:
»"I want everyone to feel the joy of being a Christian. Yes, we are happy for the gift of faith; it is our most precious possession, which no one can take from us! Let us thank the Lord for this daily, in prayer and by a consistent Christian life. God loves us, but he also expects us to love him!" «
Mother Julia wrote in the same spirit: "God wants his 'Work' to be radiant, pure, true and healthy. He wants us to radiate the Easter joy, the hope and love of the first Christians!"