06.07.2019

The Spiritual Family The Work
Called to Something Great
Consecration of Frater Kilian Deppisch to the Lord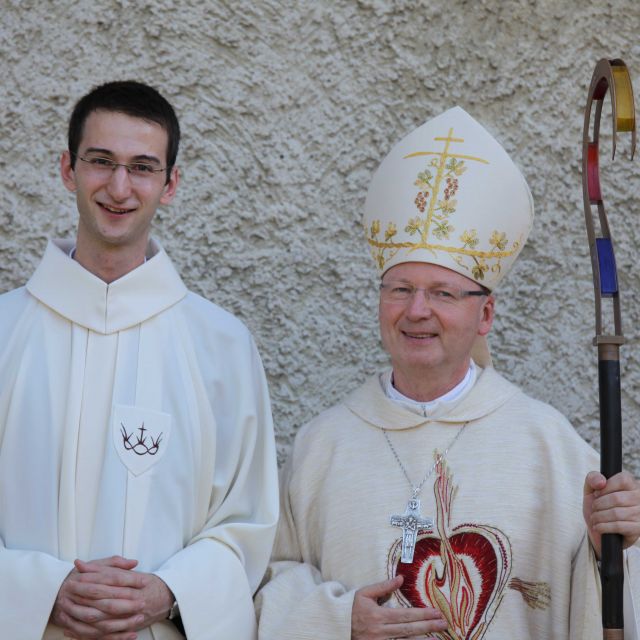 Being a disciple of Jesus is still a reality today, as Jesus never ceases to draw people to himself. This could be strongly felt on June 28th, 2019 in the Parish Church of St. Gallus in Bregenz during the Mass for the Solemnity of the Sacred Heart of Jesus. Frater Kilian of the Spiritual Family The Work bound himself to Jesus in the Holy Covenant of Virginal Love, giving his life to Him, and promising chastity for the sake of the kingdom of God. As a sign of this total gift of self, he received the white choir robe worn by members of The Work at liturgical celebrations.
The many people who had come from near and far to celebrate with him found themselves experiencing a beautiful Liturgy. Many young people were present. The ceremony was enhanced by the magnificent singing and organ-playing provided by the choir and organist from frater Kilian's homeland. A small choir made up of some Sisters of The Work also made their contribution to the festive occasion.
The main celebrant at the Mass was Bishop Benno Elbs who, in his homily, exhorted all to discover the Love of the Sacred Heart of Jesus; to gaze upon its wounds; and to pass on to others – especially the poor and needy- the love they found there.
Most impressive of all was when the young man spoke his "Yes", thus consecrating himself to Christ and the Church. The rite of binding oneself to the Sacred Heart, as someone who wishes to follow Christ more exclusively, points to the reality that man is created for 'something great' – for God, who fulfils our deepest desires calls whomever he wills.
Fr. Thomas Felder, International Superior of the Priests' Community, exhorted those present to beseech God daily for vocations, for the Diocese and the Spiritual Family The Work. Priests and Religious – he said- are a precious and important gift to today's Church.
The refreshments took place – in gorgeous summer weather – in the special ambience of the inner courtyard at the Thalbach Monastery. One could sense how the faithful had been touched by the celebration and their rejoicing over the gift of faith they had witnessed. Good food and drinks prolonged and concluded the great Feast, with many people entering the joy and thanksgiving of the occasion.